Classes and Summer Camps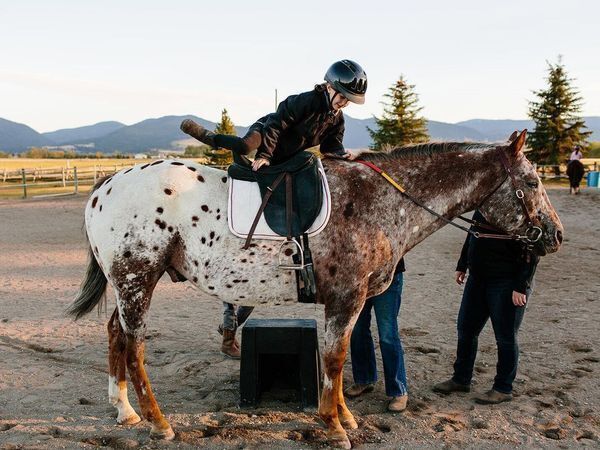 In Windhorse classes and camps, youth learn horsemanship and riding skills while also learning social emotional skills like leadership, partnership, communication, trust, empathy and more. They gain tremendous confidence partnering with a 1000-pound horse while also learning about themselves and their own capacity for leadership. Windhorse programs also help alleviate anxiety and build awareness of self and others. 
Windhorse Equine Learning offers classes in three 6-week sessions throughout the year (spring, summer and fall), and summer camps in June and July. Our classes are two hours per week and take place at Windhorse, 3477 Johnson Road in Bozeman. Summer camps are three hours per day for five consecutive days. Windhorse serves youth from third grade through high school. The fee is $350 for classes and $400 for camps; needs-based scholarships are available. Complete the registration application below, and apply for a scholarship at https://windhorseequinelearning.org/what-we-do/scholarships.html.
Although kids in Windhorse classes and camps do learn how to ride, it is not our mission to teach riding. Our Level 1 beginner class is all taught on the ground. In Level 1, kids learn about horse behavior and communication, as well as how to halter, groom and lead a horse, but they do not ride. They learn about leadership and communication, how to be safe around horses and how to build a positive relationship with their horse. Most importantly, they learn about themselves and their own capacity for leadership, and gain tremendous confidence and self-efficacy in the process. This is our mission. In our Level 2 class, kids learn how to ride while focusing on partnership and relationship skills. We do teach riding in our week-long summer camps. 
Here are our class levels and the skills we focus on in each: 
Level 1: Leadership (All kids must begin in this level. There is no riding in Level 1.)
Level 2: Partnership (Kids begin to learn riding skills. All subsequent levels include riding as part of the curriculum.)
Level 3: Responsibility
Level 4: Trust
Level 5: Empathy
Level 6: Resilience
Level 7: Awareness/Attunement
Level 8: Connection
2024 Class and Camp Schedule
Spring Classes (registration open Jan. 1), Levels 1-8
April 8 - May 18, Grades 3-12. Sign up below.
Saturdays and weekday afternoons.
Practicing Mindfulness with Horses: a class for teens with anxiety (Middle and high school students only). 
Spring: April 11 - May 16, Thursdays, 4:30-6:30pm
Summer: TBD
Fall: September 16 to October 26, Thursdays, 4:30-6:30pm,
Beginner Summer Camps (Registration open March 1)
All camps are 9am to noon, and for grades 3-8.
June 17-21
June 24-28
July 15-19
Intermediate Summer Camp
July 29-August 2
This camp is open by invitation only to previous campers and class participants. 
Fall Classes (Registration opens June 1) Levels 1-8
September 16 - October 26, Grades 3-12. Sign up below.
Saturdays and weekday afternoons.
Costs, Important Dates and Policies
Fees
The fee for a class is $350 for the 6-week session
The fee for a camp is $400 for a 5-day camp.
Scholarships are available. Apply here.
Registration Dates
January 1, 2024
Spring Classes and Spring Mindfulness with Horses
March 1, 2024
Summer Camps
June 1, 2023
Fall Classes and Fall Mindfulness with Horses
Deposits and payments
After you have submitted an application for class or camp, we will email you to confirm your child is enrolled. Once enrolled, please respect the following required payments and deadlines. A nonrefundable deposit of $100 is required within 2 weeks to reserve your spot (exception for scholarship recipients). You may mail a check to Windhorse at 3477 Johnson Road, Bozeman 59718 or pay online at https://windhorseequinelearning.org/what-we-do/. If you pay online, we ask that you cover the associated fees, which is an option in checkout. The balance of your class or camp fee is due on the following schedule.
Spring Classes 
-       Full Payment Due March 1
All Summer Camps
-       Full Payment Due May 15
Fall Classes
-       Full Payment Due August 25
Cancellations 
Deposits are non-refundable. Cancellations made one month prior to the program start date will receive a full refund of the balance due. Cancellations made between 2 and 4 weeks of the program start date will receive a refund of half the balance due. Cancellations made less than two weeks prior to the start date will not receive a refund. If your child is ill or has a conflict and must miss a class or a day of camp, we cannot reschedule. However, if Windhorse must cancel a program or a class, we will first do our best to reschedule, or we will provide you with a refund if we are unable to reschedule. 
---
Please complete the application first and confirm with Windhorse staff that you are enrolled before you submit your deposit. Thank you!