Classes and Summer Camps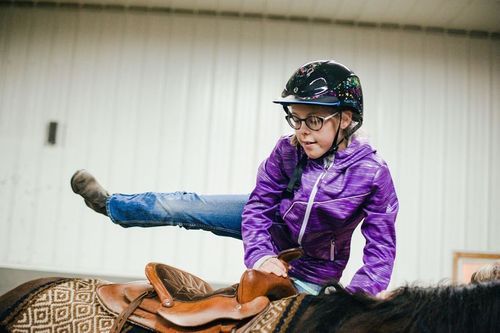 In Windhorse classes and camps, youth learn horsemanship and riding skills while also learning social emotional skills like leadership, partnership, communication, trust, empathy and more. They gain tremendous confidence partnering with a 1000-pound horse while also learning about themselves and their own capacity for leadership. Windhorse programs also help alleviate anxiety and build awareness of self and others. Learn more about equine-assisted learning. 
Windhorse Equine Learning offers classes in three 6-week sessions throughout the year (spring, summer and fall), and summer camps in June and July. Our classes are two hours per week and take place at Windhorse, 3477 Johnson Road in Bozeman. Summer camps are three hours per day for five consecutive days and take place either at Windhorse or at the MSU Bob Miller Pavilion. Windhorse serves youth from third grade through high school. The fee is $300 for both classes and camps; needs-based scholarships are available. Complete the registration application below, and apply for a scholarship at https://windhorseequinelearning.org/what-we-do/scholarships.html.
2021 Class Schedule
Spring Classes 
April 5 - May 15, Grades 3-12. Sign up below. (Spring classes are full)
Saturdays and weekday afternoons. Times vary.
Beginner Summer Camps
June 21-25, 9:00 am – 12:00 pm Grades 3-8. Sign up below. (This camp is full but we can put you on a waiting list. 
July 12-16, 9:00 am – 4:00 pm. Grades 3-5. Sign up through the YMCA at 406-994-9622.
July 26-30, 9:00 am – 12:00 pm. Grades 3-8. Sign up below.
Summer Classes
Practicing Mindfulness with Horses: a class for teens with anxiety, Middle and high school students only. Sign up below
June 21-July 30, day of week TBD, 4:30-6:30pm
Windhorse will offer weekly summer classes to current students only. If you have been enrolled in Windhorse classes or camps in the past and are interested in summer classes, please contact us.
Fall Classes
September 20 – October 30 Grades 3-12. Sign up below.
Saturdays and weekday afternoons. Times vary.
Online Application Form