Success Stories
The youth in our programs benefit in many ways from their time with horses. Most consistently, we see a marked increase in confidence and feelings of self-efficacy or the belief that they can accomplish what they set their mind to. For youth with anxiety, we see a real change in their anxiety or stress levels when they are with the horses and over the weeks they come to class. Here are just a few examples of kids who came through our program and the benefits they experienced. 
---
Taté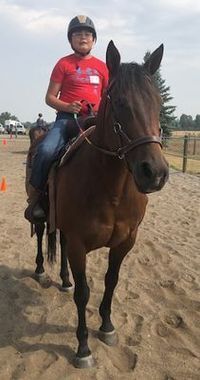 Taté participated in Practicing Mindfulness with Horses and other Windhorse classes in 2020 and 2021. Taté was adopted in 2020 after six years in foster care with his new family. His mom Jaime says they decided to enroll him in Windhorse classes because "Taté has always had a natural way with animals and has always liked working with them. We were looking for a way to boost his confidence and get him engaged with horses in a safe way and teach him how to ride. Taté is Native American so horses are part of his culture. And we wanted him to learn social/emotional skills."
After Taté participated in Windhorse, Jaime noticed a huge boost in his confidence around animals and people, as well as in new situations. She says he now handles situations that would have been scary for him before with more grace. He also is better able to regulate his emotions and manage his anger, and has a general feeling of calm and well-being.
Of his experience at Windhorse, Taté says, "I learned how to communicate with the horses and that, as their leader, I need to protect them."
---
Natalie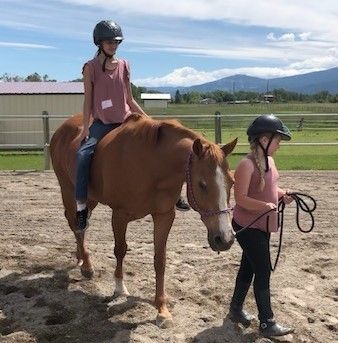 When Natalie was 11, her grandmother and legal guardian, Deb, brought her to Windhorse. Natalie and her older brother had grown up in a chaotic and unstable household where they never knew if they would go to bed in the same place they woke up, or even if they would get dinner at night. They witnessed things that kids should not see and often had to fend for themselves. The psychological trauma that Natalie had experienced made it difficult for her to engage with others or feel empathy. But Natalie loved animals, and when Deb learned about Windhorse programs, she knew they would be a good fit for Natalie.
When Natalie started at Windhorse in the fall of 2019, she had poor boundaries with other kids and with animals. She had difficulty naming her emotions or discussing her experiences in class, preferring to disassociate. And when she encountered something hard, she was easily frustrated and wanted to give up.
After two six-week sessions, her grandmother Deb tells us: "I've seen such a tremendous change in Natalie in the past year. There's a growth and a maturity and an empathy for others that she did not have before. She wasn't able to comprehend how her actions affected other people or animals. And her ability to interact and have relationships has improved so much. I really attribute these changes to what she's learned at Windhorse."
"Windhorse gave her the maturity to participate in cross-country this fall and be a part of a team. She could work with others and be a team member because it took the focus off herself. In school this year she is so engaged. Her grades have improved greatly. Her perseverance is tremendous. Windhorse has been a very big factor in that. These kids need to have a success. They have to be encouraged and they have to be told "this is good" even if it's not perfect. I consider Windhorse as part of our team for helping build these kids' character."
---
Cade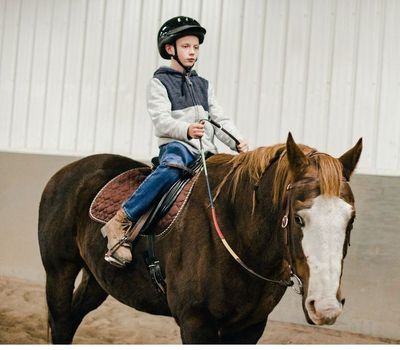 When Cade was five years old, his sister Annie was born with cystic fibrosis. At the same time, Cade's Mom, Morgan, was diagnosed with a heart defect, a rare esophageal condition and pneumonia. Mom and baby had long hospital stays and moved out of state to be nearer to the care they needed. Cade and his Dad Colby stayed in Montana, and the family had to live apart for a time.
Cade had been a gregarious kid, but when his familiar world fell apart, he became withdrawn. He coped by acting out super-hero personas, wanting to save his family and regain some control. He began acting out at school. He was terrified about his Mom and baby sister's health, and he wanted his family to be together.
Multiple surgeries later, Morgan healed, and the family learned to manage Annie's cystic fibrosis. The family reunited and Morgan home-schooled Cade so that she could keep him close and help him recover. Throughout the ordeal, Cade had bottled up his feelings and put on a brave face for his family. He still had a hard time expressing himself and remained fearful about what might happen next. Morgan sought activities that could be healthy outlets for Cade. When Morgan heard about Windhorse, she knew it would be a good fit for her animal-loving son.
"We have seen amazing changes in Cade since he started with Windhorse in July," says Morgan. "He is expressing himself more. He takes time to cool off when he's frustrated or upset. He can communicate better with us and he realizes he doesn't have to play a role but can just be himself. And we have seen him experience so much joy with the horses and with his peers in the classes. He is giggling again and being silly. It has been such a beautiful transformation. He was so tense and bottled up. Windhorse has played such a vital role in Cade's healing."
At Windhorse, Cade learned he doesn't have to play a superhero because he IS one.
---
Shaydin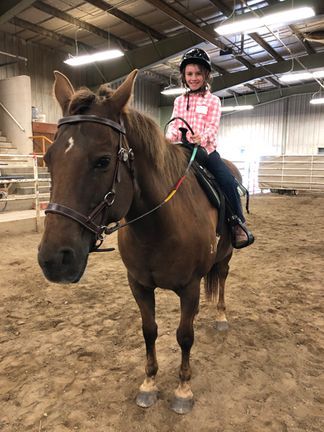 When 10-year-old Shaydin came to us for summer camp, she was going through some emotionally challenging experiences, including a father who was in jail. Her grandmother Colleen shared with us how Shaydin's participation in Windhorse helped her through. "I was totally amazed at the changes in Shaydin when she attended Windhorse classes this year," says Colleen. "I have never seen her so engaged in anything. She has experienced a tumultuous life that was stealing her courage and confidence. Through these classes I saw her emerge out of those anxious feelings and overcome them. She stays willing to try new things now. I also noticed how much it helped her to focus. We are also very thankful for Windhorse in helping us understand Shaydin more and what works for her. Windhorse is truly a blessing to any child who participates in their program."