Practicing Mindfulness with Horses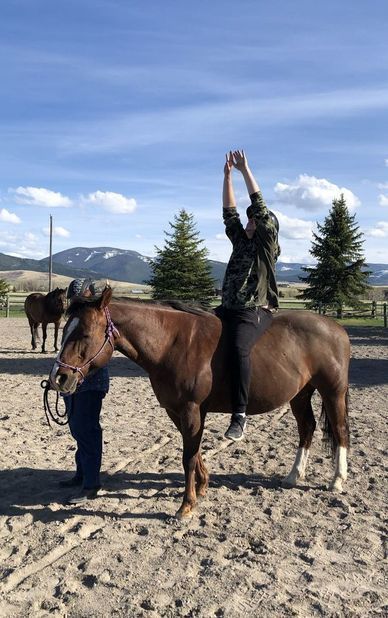 According to the National Institute of Mental Health, anxiety disorders are the most common mental health disorders of childhood and adolescence. Nearly one in three adolescents (31.9%) will meet the criteria for any anxiety disorder by the age of 18. To combat this problem, Windhorse is offering Practicing Mindfulness with Horses, a class for middle and high school students that combines yoga and mindfulness with experiential learning with horses in order to reduce anxiety and provide tools for managing anxiety outside of the riding arena. Students in this class have positive experiences where they are able to alleviate their anxiety in a safe and supportive environment alongside our gentle and peaceful horses. 
Horses are uniquely positioned to help youth with anxiety. A horse's heart rate is roughly half of a human heart rate. Therefore, their energetic vibration is much lower than ours. Being in the presence of a horse and being present with a horse can help us lower our energy and anxiety. As prey animals, horses are extremely sensitive to their environments and must learn to cope with their own fears and trust humans for their safety and survival. Where humans often anxiously obsess, horses may react with fear, but after an assessment of the perceived threat, they will quickly return to the present moment. This is a powerful lesson for youth who are dealing with fear.
Practicing mindfulness and yoga exercises that enhance awareness and further facilitate presence with horses is a powerful way to help youth cope with anxiety. Exercises will involve breathing, listening, sensing, relaxing and paying attention to give students the opportunity to begin to understand how their thoughts, emotions and behaviors influence their experience and success at school, home and in their community. Yoga practice give students a chance to practice body awareness and mindfulness through movement, both on and off the horse.
Research conducted in these classes in 2020 and 2021 reveals how effective this combination is in alleviating anxiety and depression in teens. During two sessions in 2021, on average, 79% of students experienced a reduction in anxiety, and 91% felt less depressed. To apply for this program, visit https://windhorseequinelearning.org/what-we-do/. Questions? Email info@windhorseequinelearning.org.