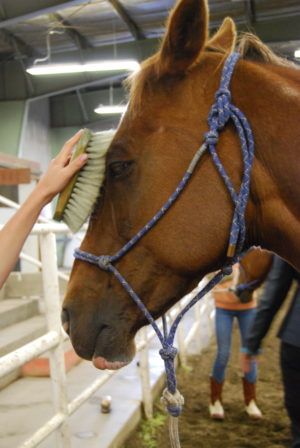 Empowering Youth through Hands-On Learning with Horses
A nonprofit 501(c)(3) organization, Windhorse Equine Learning provides experiential equine-assisted learning (EAL) programs that promote the development of social/emotional skills through guided interactions with horses. Windhorse promotes these skills by teaching horsemanship and helping participants develop a relationship and a partnership with the horse. Kids learn about leadership, respect, communication, partnership, responsibility, trust, empathy and more, as they halter, groom, lead, longe and play with horses on the ground and in the saddle.
Windhorse Equine Learning is in its 8th year of operation and has served 371 kids in its school-year programs, through its summer camps in partnership with the YMCA and Montana State University, and through its classes for teens in Big Sky Youth Empowerment (BYEP). For a schedule of school-year classes and summer camps click here. A primary goal of Windhorse is to ensure that all kids are able to learn from horses, so we offer scholarships to economically disadvantaged families. Since 2013, we have provided 226 scholarships totaling $29,000. To enroll your child in our classes and camps, visit our classes and camps page. To apply for a scholarship visit our scholarships page.
The Windhorse Mission
By providing experiential and reflective learning opportunities with horses, Windhorse Equine Learning empowers individuals to discover and realize their full potential.
Our Vision
The vision of Windhorse is to facilitate personal and collective change with the horse as guide. The Windhorse philosophy is based on the understanding that horses have the ability to profoundly enhance how we feel about ourselves, our environment, our community and our planet. By interacting with these supremely genuine, intuitive and powerful animals, we can connect with our true nature and tap into our own power.
The founders of Windhorse have all experienced the power of horses as teachers, healers and partners in creating change. They have taught us how to be leaders, helped us overcome our fears and anxieties, and demonstrated with us and with each other the qualities of respect, loyalty, congruency and authenticity. These are a few of the life skills addressed by the Windhorse curriculum.